This is big news, folks. The people at the
DeepCWind Consortium
will officially be the first to place a grid-connected wind turbine in U.S. coastal waters. As if this wasn't newsworthy enough, the Maine turbine is a floating turbine-- a cutting edge technology that, if proven, could enable construction of offshore wind energy projects in far deeper waters than previous technology has permitted thusfar. Like I said: BIG NEWS.
On Friday May 31, 2013, a team comprised of the members of the
DeepCWind Consortium
, including team leaders from the
University of Maine's Advanced Structures and Composites Center
supervised the placement of the 65-foot tall turbine into the Penobscot River at Brewer, Maine. The turbine, known as VolturnUS, is a 1:8 prototype of a proposed 6-megawatt turbine and will ultimately be towed out to a location in Castine Harbor, Maine once river-rise levels permit a safe journey for the turbine. If the 1:8 prototype proves successful, DeepCWind will construct and deploy two of the 6-megawatt turbines for its proposed Aqua Ventus I project which will be located in state waters off of Maine's Monhegan Island.
The VolturnUS will transmit power directly to the grid via subsea cables. DeepCWind has stated that the turbine is designed to withstand waves up to 60 feet high and winds up to 150 miles per hour-- that is, the types of conditions that might occur during an Atlantic hurricane.
Floating turbines present enormous opportunities for offshore wind development. Standard offshore turbines are typically installed in waters less than 30-meters deep due to practical limitations associated with the foundations located on the sea floor. However, floating turbines would enable offshore wind installations to be located in significantly deeper water. This would allow offshore wind projects to be placed further from shore or in areas such as the U.S. west coast where the ocean floor drops off significantly even close to shore. The VolturnUS project is one of only a handful of floating turbine projects worldwide which include one by Portugal's
Energias de Portugal
and Seattle's
Principle Power
off Portugal
and Norway's
Statoil
North Sea
Hywind
turbine which was installed in 2009.
The VolturnUS project has been funded in part by $12 million provided over the past five years by the U.S. Department of Energy. "Led by the University of Maine, this project represents the first concrete-composite floating platform wind turbine to be deployed in the world – strengthening American leadership in innovative clean energy technologies that diversify the nation's energy mix with more clean, domestic energy sources," the DOE said in a
press release
as the VolturnUS demo turbine went into the Penobscot River on Friday.
The VolturnUS launch event was hosted by
Cianbro
. Among the dignitaries on hand for the ceremony were Sen. Susan Collins, Sen. Angus King, Rep. Michael Michaud, Jose Zayas of the U.S. Department of Energy, University of Maine System Chancellor James Page, UMaine Executive Vice President and Provost Susan Hunter, Cianbro CEO Peter Vigue and Dr. Habib Dagher, director of UMaine's Advanced Structures and Composites Center.
During his preliminary remarks, Dr. Dagher noted that the VolturnUS received its name from a student at the University. The name breaks down into the descriptive components of "Volt" for electric voltage, "turn" to reflect turbine movement, and "US" to celebrate the first turbine located in U.S. waters. The name VolturnUS also pays homage to Volturnus, the Roman God of the East Wind.
Proponents of deepwater floating turbine projects in Maine hope to support the development of up to 5 gigawatts of power with arrays of up to 80 turbines floating in a 4 by 8-mile area in federal waters approximately 20 nautical miles from the coast by 2030. DeepCWind has stated that it believes that its turbine design will be able to produce electricity at 10 cents per kilowatt-hour without subsidies, meeting a 2020 goal of the DOE.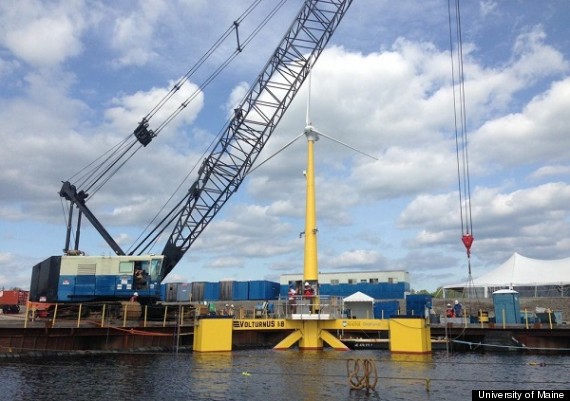 A large crane operated by Cianbro transitions VolturnUS into the Penobscot River.